3rd May 2019
It has been a busy week for committee members for the ASOI, many of whom attended and took part in the European Congress on Obesity in our neighbouring Glasgow. As part of this, our committee member and patient advocate Susie Birney was appointed secretary of the brand new European Coalition for People Living with Obesity (EASO-ECPO), which was launched at the event.
The group also consists of Executive Director, Vicki Mooney of Lanzarote and Ireland, President Sólveig Sigurðardóttir, Iceland; Vice President Audrey Roberts, Scotland; and Communicators Director Alexandra Fraisova, Czech Republic. Many of the coalition's members will present and take part in our upcoming 2019 conference on "Patient advocacy and approaches to reduce obesity stigma" on 17th & 18th May.
As part of their launch, the group also unveiled their 'People First' campaign, handing out green ribbons for delegates to attach to their conference badge and letting others know the "I am people first". This is part of ongoing advocacy to emphasise to researchers, practitioners, the media and members of the public that patients who have obesity are people first. See Susie Birney explain the campaign in detail here.
In addition, the ASOI are also proud to announce that our committee members Dr Grace O'Malley & Susie Birney have officially welcomed international delegates to Ireland for the joint European Congress on Obesity and International Congress on Obesity (ECO/ICO) to be held at the Convention Centre Dublin in May 2020. The official welcome came during the closing ceremony of a fantastic ECO 2019 in Glasgow. Dr O'Malley has also recently been appointed secretary for the European Association for the Study of Obesity (EASO).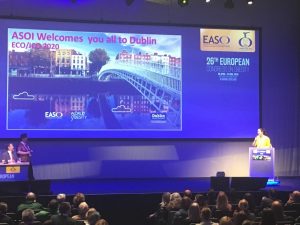 The ASOI were well represented at ECO with many committee and association members taking part in presenting and chairing, including the weight management team from Loughlinstown who had three poster presentations at the conference. This event has built excitement for the fantastic line-up of our forthcoming ASOI conference, where Irish patient advocates will also be continuing their campaign to put #peoplefirst. Find conference proceedings for ECO Glasgow in Obesity Facts.
Finally, there is still time to register for ASOI 2019, as we begin our two-week countdown! Register here.