The Association for the Study of Obesity on the Island of Ireland (ASOI) is the Irish representative body at the
European Association for the Study of Obesity (EASO)
and the
World Obesity Federation
. ASOI aims to develop an understanding of obesity through the pursuit of excellence in research and education, the facilitation of contact between individuals and organisations, and the promotion of action to prevent and treat obesity across the island of Ireland.
Materials for both media and press can be found below.
Obesity media portal and non-stigmatising imagery for journalists
This Media Portal has been developed to provide pan-EU journalists with the most up-to-date and relevant information about obesity.
It is an evolving resource which will be updated regularly as new resources and information become available. Our organisation believes that obesity is a health priority across Europe, and that media play a critical role in driving awareness and understanding of this complex, and often stigmatized disease.
If you are a journalist looking for appropriate non-stigmatising obesity-related imagery, the following links provide a variety of images that can be downloaded and used in publications:
Canadian Obesity Network
The Canadian Obesity Networks mission is to act as a catalyst for addressing obesity in Canada and as a platform to foster knowledge translation, capacity building and partnerships among stakeholders. Their Perfect at Any Size Gallery was developed to help promote accurate coverage of obesity-related topics in news reporting and challenge harmful weight-based stereotypes
The UConn Rudd Center for Food Policy & Obesity – Media Gallery
The Rudd Center for Food Policy & Obesity at the University of Connecticut is a distinguished multi-disciplinary policy research centre dedicated to improving the world's diet, preventing obesity and reducing weight stigma.
Their media gallery now contains several hundred still images and over 80 b-roll videos depicting non-stigmatizing portrayals of individuals with obesity.
World Obesity Image Bank
The most recent addition to our range of high-quality external resources promoting positive, non-exploitative images of people with obesity in the media. This image bank resource is designed to improve awareness and understanding of practical, effective actions that can be taken to combat the obesity crisis.
The Obesity Action Coalition (OAC)
A nearly 54,000 member-strong non-profit organisation based in the USA and dedicated to giving a voice to the individual affected by the disease of obesity and helping individuals along their journey toward better health through education, advocacy and support. OAC works to raise awareness and improve access to the prevention and treatment of obesity, provide evidence-based education on obesity and its treatments, fight to eliminate weight bias and discrimination, elevate the conversation of weight and its impact on health and offer a community of support for the individual affected.
http://salsa4.salsalabs.com/o/51094/p/salsa/web/questionnaire/public/?questionnaire_KEY=97
IFB Adiposity Diseases Centre Germany – Photo Gallery
The IFB Adiposity Diseases centre is a joint centre of the Medical Faculty of the University of Leipzig and the University Hospital of Leipzig, bringing together both obesity research and treatment experts under one roof. Its photo gallery features a diverse range of images of people with obesity which are available to news publications upon request.
Stigma in Obesity Against Children & Adolescents
EASO Media Masterclass Video Playlist
Press releases
People living with obesity less likely to seek medical care due to stigma
Addressing obesity stigma to be discussed at national obesity conference in advance of European Obesity Day 2019
Policy Brief – Childhood obesity prevention: Co-created research priorities using the nominal group technique
A group of scientists, clinicians, and other experts pen open letter to Dr Eva Orsmond
The ASOI succeed in changing pejorative stigmatising word for obesity in the Irish language
Action taken by Wicklow County Council to protect children's health recognised at national obesity conference in the lead up to European Obesity Day
Obesity Seminar examines role of images and language in weight stigma
Childhood Obesity Surveillance Initiative Press Release
European Obesity Day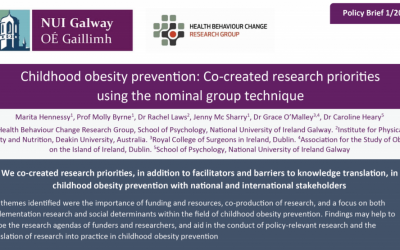 Click the link below to access this policy brief in full, led by committee member Marita Hennessey. Policy Brief Full article in Translational Behavioural Medicine Blog post: Bringing POCKETS together